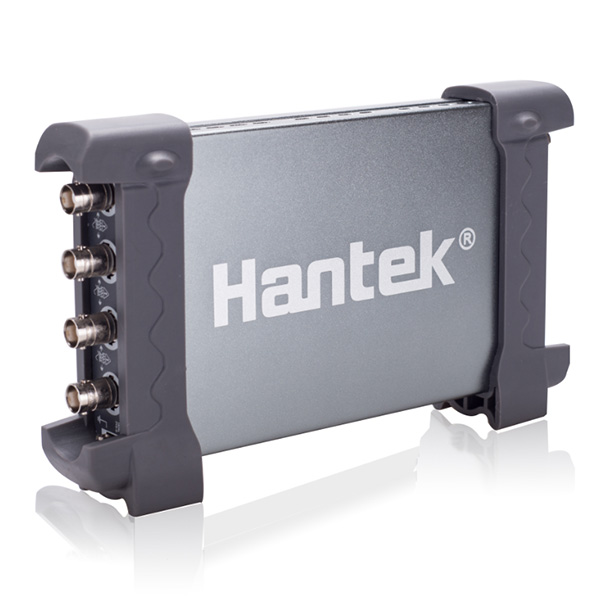 Specifications *
Channels: 2
Effective ADC bits (without error): 8 bits
Min sampling rate: 250 Sa/s
Max sampling rate (2 channels): 250 MSa/s
Input range: ±8mV to ±40V
Number of samples each scan: 4096 Sa
Waveform update rate (2 channels, rate >= 125KSa/s): 13 wfms/sec
Roll Mode: available
AC/DC: hardware
Power Consumption: 0.78A (it may require external power)
*Provided by HScope
Modules Support
Automotive Module: supported up to 25KSa/s real-time
Audio Module: not supported
Advantages
Hardware AC/DC coupling
Wide input range (suitable also for automotive and electrical applications)
This device seems don't need calibration, data acquired from the device is already accurate
Disadvantages
High power consumption (may need external battery pack)
Real-time acquisition rate not high (up to 25KSa/s with modified driver)
License
Hantek 6104 is recognized as 6074. Full version will require the license for Hantel 6074.
HScope Driver Optimization
Original roll mode speed is 250Sa/s. This is the maximum sampling rate supported by the original software for continuous acquisition.
The driver available on HScope overclock the real-time sampling rate up to 25KSa/s, for a better usage with the Automotive Module.
Other
The driver for this device is available since April 2019 (release 117).
Resources