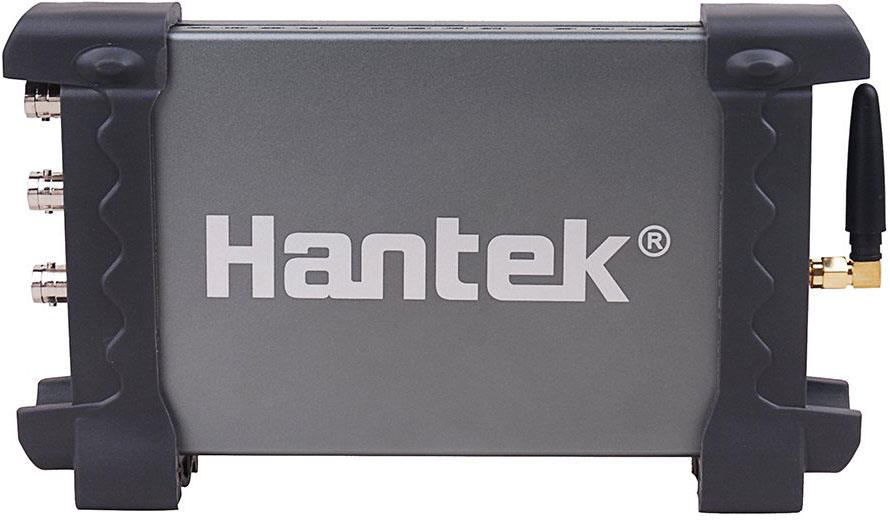 Specifications *
Effective ADC bits (without error): 7 bits
Min sampling rate: 200 Sa/s
Max sampling rate (2 channels): 125 MSa/s
Input range: ±40mV to ±20V
Number of samples each scan: 2000 Sa
Waveform update rate (2 channels, rate >= 100KSa/s): 6 wfms/sec
Roll Mode: supported
AC/DC: hardware
Modules Support
Automotive Module: supported only at 200 Sa/s
Audio Module: not supported
Connection
HScope supports this device just through WIFI connection.
Turn on the oscilloscope
Connect the phone/tablet wifi to the oscilloscope wifi
Open HScope app (a loading process should start)
In both case the mobile phone is connected directly to the oscilloscope WIFI or the oscilloscope is connected to a router, HScope will detect it through a router just if the oscilloscope is on one of these following IPs: 192.168.1.2. In case of connection through router configure the router to assign to the oscilloscope one of these static IP. Check out this Youtube Video for the connection through a Router.
Known Issues
Communication speed is strongly depending from phone wifi module, phone environment and natural environment interference. In the worst case the communication can be delayed of a couple of seconds freezing the data on the app. Wifi communication provided by this device in some case do not allow a smooth visualization of the data on the software, on the other hand suitable wifi modules on the phone may allow refresh rates up to 15-20 wfms/sec.
Since the oscilloscope work in AP mode, it is suggested to close all apps on the phone that may try to access internet, so that the oscilloscope wifi chip do not get saturated by all the network requests from the phone.
Channels present strong cross interference. When applied a signal to channel 1 it is possible to see the channel 2 zero level moving.
Also basic noise rejection is not the best. When probes are not connected it is possible to get signal in input even at higher input range (20Vp). This kind of noise affect both channels in the same way and seems to be generated internally in the oscilloscope (maybe from the Wifi module or by the MCU.
Resources