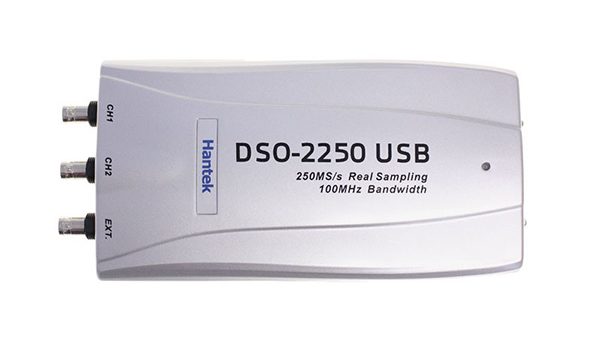 One of the first Hantek oscilloscopes, it is supported by a variety of third party's apps. In HScope it doesn't perform well as the other oscilloscopes so it is not suggested for a new purchase. All the details about HScope support are in this page.
Driver available in BETA version
The driver for this device is under development. The license for this device is currently available at a discounted price.
Specifications *
Channels: 2
Effective ADC bits (without error): 8
Min sampling rate: 50KSa/s
Max sampling rate (2 channels): 125MSa/s
Input range: 40mV – 20V
Number of samples each scan: 5160
Waveform update rate (2 channels, rate >= 125KSa/s): NA
Roll Mode: NA
AC/DC: hardware
Power Consumption: 0.52 A (it may require external power)
*Provided by HScope
Modules Support
Automotive Module: NOT SUPPORTED
Audio Module: NOT SUPPORTED
Advantages
Hardware AC/DC coupling
Hardware Trigger
Wide input range (up to 20Vp)
Disadvantages
Do not support real-time continous acquisition
Due to Android limitations in USB speed you may experience data broken at higher sampling rates.
Note
It is suggested to do the Calibration procedure with the original software before use. It take about 10min. each channel.
Resources