Specifications *
Effective ADC bits for OSC482 (without error): 8 bits
Effective ADC bits for DDS120/BM102 (without error): 7 bits
Min sampling rate: 500 Sa/s
Max sampling rate (2 channels): 48 MSa/s
Input range (OSC482): ±100mV to ±5V
Input range (DDS120/BM102): ±250mV to ±6.5V
Number of samples each scan: 1024 Sa
Waveform update rate (2 channels, rate >= 100KSa/s): 30 wfms/sec
Roll Mode: supported
AC/DC: hardware
Modules Support
Automotive Module: supported up to 125KSa/s real-time
Audio Module: supported
Advantages
Hardware AC/DC coupling
Fast real time acquisition with Cypress FX2 chipset (reach top rate in Automotive Module)
High ADC resolution at lower rates (experimental)
(OSC482) HScope read device calibration data (not need to be calibrated)
Driver & License
HScope supports the following models which are recognized at the first connection as SainSmart DDS120:
Loto OSC482 (it uses license Loto OSC482)
SainSmart DDS120
Rocktech BM102 (it uses license SainSmart DDS120)
Loto OSC482 device at the first connection is recognized as DDS120, then it need to be configured in the app settings as OSC482 device (General -> Hardware -> Model). Restart HScope to refresh the configuration.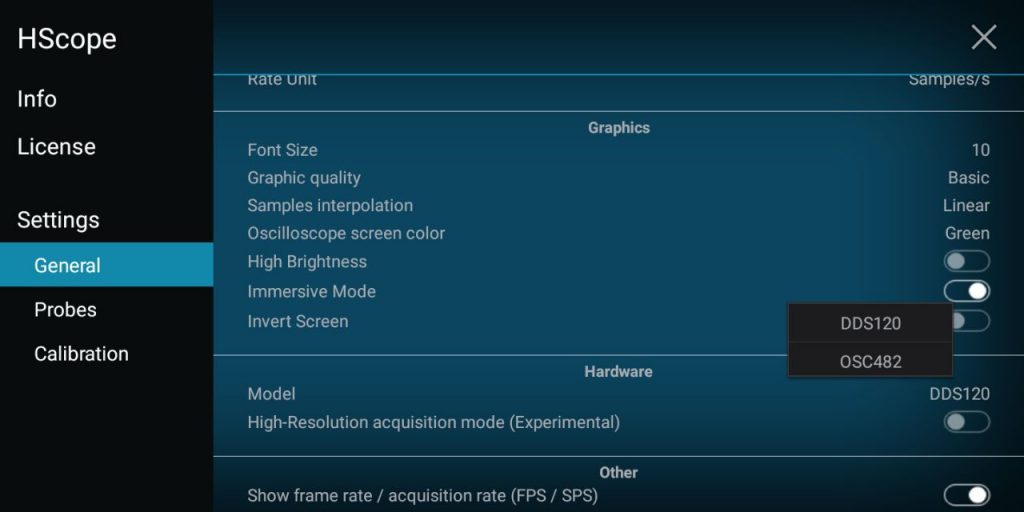 Other
SainSmart DDS120 and Rocktech BM102 devices are also supported by Sigrok.
Resources
Related Videos