HS402 Wifi Oscilloscope has been designed to provide good performances respect to the current alternatives in the market.
---
It can be used only with HScope app for Android.
HScope is in continuous development thanks to the contributions of the supporters, and aim to become one of the best affordable high-tech diagnostic tool.
Support today the Research & Development!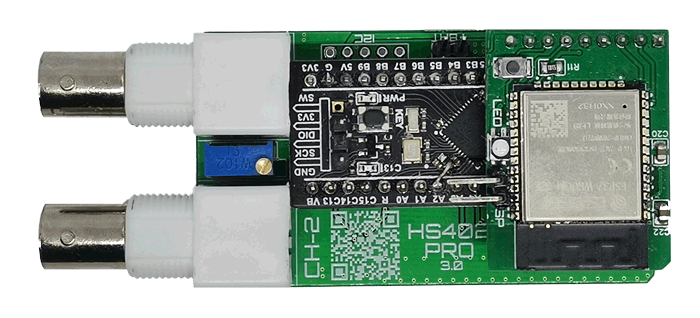 Technical Specifications
Basic Specs
According HS402 specs.
Range
≥ 5 m (in free air)
Wifi mode
Access Point (AP) or Station (STA), configurable
Wifi channel
Configurable in AP mode
Power consumption
~200 mA (STM32 + ESP32)
(~100 mA with ESP32 Firmware v1.1)
Battery duration
≥ 3 hours (with 2500mAh battery pack, PCB v2.0 with ESP32 devel board, continuous use)
≥ 2 hours (with 880mAh battery pack, PCB v3.0 option 3 with LDOs, continuous use)
Other
Web based configuration, battery monitor (optional).
Noise Considerations
Wifi transmission seems not to effect the device noise
Memory Buffer
30K samples (half when use 2 channels together)
60K @ 4.2 MSa/s
OS Version
Android 7+ (Android 4.4 supported but Automotive Module cannot reach more than 100KSa/s for 1 channel and 50KSa/s for 2 channels)
*performances dependent from Android hardware and OS version. Check required OS Version. Suggested CPU 2.1GHz+
---
Built By The Users
Take a look to the HS402-WiFi Oscilloscopes build by the users!